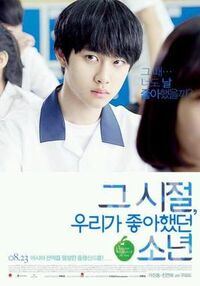 Title: Cart (카트; Kateu)
Release: 2014
Country: South Korea
Genres: Drama
Duration: TBA
Director: Boo Jiyoung
Sunhee (Yum Jungah) is a mother of two children. She works at a large discount retail store as a cashier. Hyemi (Moon Junghee) is a single mother and a co-worker of Sunhee. Soonrye (Kim Youngae) works as a janitor at the same store. Dongjoon (Kim Kangwoo) is the only male member of the labor union at the discount store. Suddenly, contract workers are laid off at the store. The laid-off contract works stand up against their unfair dismissal.
Yum Jungah as Sun Hee
Moon Junghee as Hye Mi
Kim Youngae as Soon Rye
Kim Kangwoo as Dong Joon
Do Kyungsoo as Tae Young
Hwang Jungmin as Ok Soon
Chun Woohee as Mi Jin
Ji Woo as Soo Kyung
Lee Seungjoon as Section chief Choi
External links
Edit
Community content is available under
CC-BY-SA
unless otherwise noted.