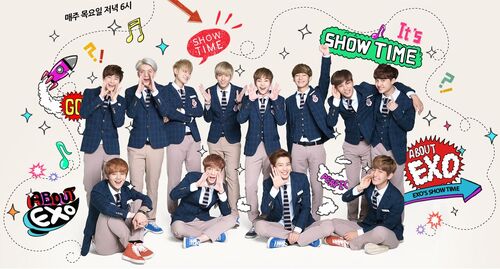 EXO's SHOWTIME!!!
EXO's SHOWTIME (EXO의 쇼타임) is a variety/reality show all about EXO. It shows all of the EXO members' everyday lives. Each epsiode is aired on TV every thursday of the week (now finished) for 12 weeks. In each episode, the members are given a variety of questions to answer, some from the fans themselves.
Episodes @:
☀http://mindlessartfreak.tumblr.com/exoshowtime
Introduces the EXO members.
EXO makes their own 'fighting slogan'.
Questions:

Q1 : Who do the members think is the handsome member in EXO?

A1 : EXO's pretty boy is Suho, who is good at Scissors, Paper, Rock!
Voting tally:
Suho : 2
Baekhyun :
Voted by: D.O.
Chanyeol : 1
Voted by: Kai
D.O. :
Voted by: Baekhyun
Kai : 1
Voted by: Chanyeol
Sehun : 2
Kris : 1
Voted by: Kris
Xiumin : 1
Voted by: Luhan
Luhan : 1
Voted by: Xiumin
Lay : 0
Voted by: -
Chen :
Voted by: Suho
Tao : 0
Voted by: -
Q2: Suho oppa which is called 'just rich', how much money do you have in your wallet?
A2: Only 20.000 won! But if there is a card that's okay.
Q3: Half of my class can't remember EXO's names. Because there are so many members it's not easy to rememebr everyone's faces. Is there a way to remember easily?
A3: ~Kai: Not dark, but bronze skin. ~Tao: Looks somewhere between Shin Hyun-jun and Kang Dong-won. ~Xiumin: Round eyes with single eyelids. ~Lay: Deep dimples. ~Chen: Camel dinosaur who sings with his cheekbones. ~Suho: Handsome forehead. ~Baekhyun: When he smiles/laughs, his lips form a rectangular shape. ~D.O.: Heart-shaped lips and white eye rich. ~Sehun: Sharp jaw line. ~Chanyeol: Male god with fairy-like ears. ~Luhan: Sparkly eyes deer. ~Kris: Just cold guy.
Q4: Oppas are known as complete chicken manias. Is it possible for 1 person to eat 1 chicken?
A4: Even is Kai eats chicken as a staple food, it's still difficult for him to finish 1 chicken! (Sehun is 'chicken mania', Kai is just 'chicken', Luhan is just 'mania'.)
Q5: Oppas, congratulations one your very own variety show! For me, please show a love wink.
A5: EXO's wink is cute and fatally charming.

Community content is available under
CC-BY-SA
unless otherwise noted.