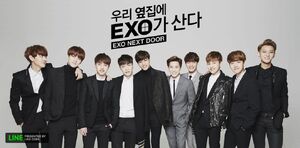 EXO Next Door
(Hangul: 우리 옆집에 엑소가 산다; RR: Uri Yeobjibe Eksoga Sanda; lit. "Exo Lives Next Door to My House") is a 2015 South Korean web series starring Moon Ga-young and members of the K-pop boy band EXO (with the latter playing fictionalized versions of themselves). It aired on Naver TV Cast from April 9 to May 28, 2015 on Tuesdays and Thursdays at 22:00 for 16 episodes.
Ji Yeon-hee (Moon Ga-young) is an extremely shy, introverted 23-year-old girl with zero dating experience and a tendency to blush when talking to someone she likes. One day, four young men move into the house right next door to Yeon-hee's home, and to her surprise, they turn out to be Chanyeol (Park Chanyeol), D.O. (Do Kyungsoo), Baekhyun (Byun Baekhyun) and Sehun (Oh Sehun) from her favorite boy band EXO, who are looking to lay low for a while. They hire her to clean their house part-time during the winter vacation and that's when Yeon-hee found out that Chanyeol was her long lost childhood friend and crush "Chan" and is the grandson of the house owner. As the story goes on, Yeon-hee soon becomes involved in a love triangle with Chanyeol and D.O.
Main Cast
Edit
Supporting Cast
Edit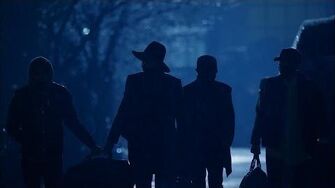 Community content is available under
CC-BY-SA
unless otherwise noted.