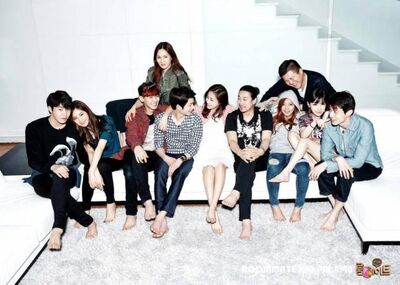 Roommate
(Korean: 룸메이트) is a South-Korean reality show that aired on SBS. The show involves celebrities living together in a share house and completing household tasks and also possibly form friendships, relationships and enemies at the same time. The first episode was aired on May 4, 2014.It has been announced that Roommate will be renewed for a second season, with a different plot and a change in the cast line-up. The final episode of Season 1 will air on September 14 2014, with Season 1 ending with 20 episodes, while the first episode of Season 2 will premiered on September 21 2014.
Plot
Season 1: Roommate
Season 2: It's Okay, Roommate
Cast
Current members
Bae Jongok (actress)
Jackon (artiste) [from GOT7]
Joon Park (artiste) [from G.O.D.]
Jo Seho (actor, comedian)
Lee Dongwook (actor)
Lee Guk Ju (comedian)
Nana (artiste) [from After School]
Park Minwoo (actor)
Ryohei Otani (actor)
Seo Kangjoon (actor, artiste) [from 5urprise]
Sunny (artiste) [from Girls' Generation]
Youngji (artiste) [from KARA]
Former members
The following are the members of the cast who had left in the middle of Season 1 due to personal reasons.
Hong Soohyun (actress)
Lee Sora (model)
Park Bom (artiste) [from 2NE1]
Park Chanyeol (from EXO)
Shin Sungwoo (singer/actor)
Song Gayeon (martial artist)
Trivia
Baekhyun has made a guest appearance in an episode.
Chanyeol had left Roommate after the second last episode, with the staff of the show stating that "due to his busy schedule, it has become difficult for Chanyeol to participate in the filming so he has decided to leave."
Community content is available under
CC-BY-SA
unless otherwise noted.