S.M. Entertainment (SM엔터테인먼트) is an independent Korean record label, talent agency, producer, and publisher of pop music, founded by Lee Soo-man in South Korea. Its current CEO is Kim Young-min. The label is known as one of the "Big Three" record companies of Korea (along with JYP Entertainment and YG Entertainment) because of strong market share and international operations.
Once the home to the original Korean Idol groups like H.O.T., S.E.S., and Shinhwa, its current roster of recording artists include Kangta, BoA, TVXQ, TRAX, The Grace, Super Junior, Zhang Liyin, Girls' Generation (SNSD), J-Min, SHINee, f(x), EXO, Henry (Henry Lau), Red Velvet, Aespa all of whom enjoy great success both domestically and internationally. It is also home to actors like Go Ara, Kim Min-jong, Kim Ha-neul, Lee Yeon-hee and Kim Ian among many other. SM Entertainment also co-publishes Avex Trax releases for Japanese artists such as Ayumi Hamasaki, Namie Amuro, and Koda Kumi, as well as Johnny's Entertainment acts like Arashi and KAT-TUN.
In 2012, the company's market capitalization rose to 1.38 trillion won (US$1.24 billion).
History
After graduating from Seoul National University and pursuing his own career as a singer, Lee Soo Man surveyed teenage girls on what they wanted to see in music groups and started the boy group H.O.T. and girl group S.E.S. Both groups became successful during the late 1990s. Soon thereafter, Lee created Shinhwa, and once again, the band attained the same popularity and success, continuing Lee's streak of producing successful artists. In 1999, Lee created Korea's first R&B duo, Fly to the Sky, with members Hwanhee and Brian, adding to Lee's list of successful groups.
1990s: First generation groups
In February 1995, SM Entertainment set up its capital fund at 50,000,000 won. In January 1996, SM Entertainment purchased land for a recording site and manufactured its contents for broadcasting companies like Korean Broadcasting System (KBS), Seoul Broadcasting System (SBS), HBS, KMTV, and M-NET. In April 1997, the head office was transferred to the Yadang-ri, Gyoha-myeon, Paju, Gyeonggi-do. In October 1998, Kim Kyoung-wook was awarded the position of CEO. In August 1999, a paid-in capital increase of 25,000,000 won (5,000 shares) and free issue of 225,000 shares (112,500,000 won) occurred. In that same year, SM Entertainment built a branch office in Apgujeong-dong, Gangnam-gu, Seoul.
However, problems began appearing in SM Entertainment following the breakup of H.O.T., and S.E.S., who disbanded a year after H.O.T., and a few years later in 2003, SM Entertainment saw the departure of Shinhwa, though the group did not breakup and moved to a new management company. In the following years, some of its newer ventures, such as Isak N Jiyeon and Black Beat, failed to attain the popularity achieved by earlier SM artists.
2000s: Second generation and expansion
In early 2000, SM Entertainment agreed to share the split from 5,000 won to 500 per a share. In mid-2000, the company was approved and listed in KOSDAQ as 041510. Late that year, SM Entertainment and Avex Trax signed a contract for music licensing and an Asia agency. In December 2000, SM established an affiliation with Fandago Korea. In January 2001, SM Entertainment established an overseas joint-venture corporation as SM Entertainment Japan Co., Ltd. They are also preparing to establish a new headquarters in Beijing, China]. In March of the same year, Kim Kyoung-wook was appointed the company's third CEO. In May of the same year, SM Entertainment spent 10 billion won to organize its first joint-venture investment fund in the music industry. SM also established subsidiaries BM Entertainment and Cid.K Entertainment for girl groups M.I.L.K. and Shinvi, respectively, but now defunct upon the groups' disbandment.
In April 2002, an additional 1,341,180 shares was added, and in June 2002, the third-party paid-in capital increased another 61,048 shares. In late-2002, SM Entertainment was awarded the Grand Prix of Ministry of Culture and Tourism for the Culture Contents for Export Award in music. In 2003, it established its affiliation with the Starlight Corporation Ltd and was awarded a prize for the best music contents in Korea. In February 2004, the third-party paid-in capital increased another 271,428 shares. In April of the same year, the head office moved from Paju, Gyeonggi Province to Apgujeong-dong, Gangnam-gu, Seoul. A month later, it established its affiliation with C-Cube Entertainment Corporation.
The agency later found new successes with many other acts. SM Entertainment debuted a solo singer BoA in 2000, a five-member boy group TVXQ in 2003, a four-member rock band TRAX in 2004, a four-member girl group The Grace and a twelve-member boy group Super Junior in 2005, a solo singer of Chinese descent Zhang Liyin in 2006, a nine-member girl group Girls' Generation (SNSD) in 2007, another five-member boy group SHINee in 2008, five-member girl group f(x) in 2009, four-member ballad project group S.M. the Ballad in 2010, and in 2012 boy group EXO, which is divided into subgroups EXO-K and EXO-M for Korean and Chinese (Mandarin) markets, respectively.
In May 2005, the fourth CEO came on board, Hur Dah-shin. In May 2008 SM Art Company was formed and helmed by Pyo In-bong as co-CEO. It aims to pursue businesses in musicals and theatre business. Its first production was Xanadu starring Super Junior members Heechul and Kangin. In August 2010, Kim young-min took office. Kim Young-min (born April 13, 1970) is a graduate of Korea University majoring in Sociology. In September 1999, Kim Young-min joined SM Entertainment as a team leader of overseas business, and during 2001 to 2005, he was the CEO of Fandango Korea. On October 21, 2008, the company announced its plans to debut BoA in the United States under S.M.'s new subsidiary label, S.M. Entertainment USA.
2010–2011: United Asia Management and joint ventures
In February 2010, founder Lee Soo-man resigned from his position as a member of the board of directors. An official at SM is quoted as saying that Lee had decided to do so in order to "focus more energy on S.M.'s overseas business, new business management and artist development".
In May 2010, SM announced its largest first quarter operating profit of 2010 at 10.4 billion won, up 471% from the same period in 2009. Its gross revenue from sales from January to March was reported at 22.7 billion won, up 58% from the year before.
KMP Holdings: In March 2010, KMP Holdings was established via a joint venture between S.M., YG, JYP, Star Empire, and other companies like Medialine, CAN Entertainment and Music Factory. KMP is the official distributor of releases from these companies. KMP stands for Korean Music Power. Henry's Trap was the last SM release to be distributed by KMP.
United Asia Management: SM Entertainment, YG Entertainment, JYP Entertainment, KeyEast, AMENT and Star J Entertainment will be joining forces to create a huge Asian management agency named 'United Asia Management'. This joint investment corporate body was created in an effort to develop an industry that will push 'Hallyu' to 'Asianlyu'. United Asia Management aims to pioneer a global market, and all artists under the six agencies will be under a database system that manages intellectual property rights. A new contents production system will be utilized as well for movies, dramas, and other media. UAM will also be acting as the global agency for artists planning to advance, or currently promoting, overseas. UAM was officially established as of April 2011.
S.M. True: On August 16, 2011, SM has established their first international joint venture with Thai media company TrueVisions Group called "SM True." Artists Kangta and Shinee are present in the event, as well as S.M.'s CEO, Kim Youngmin. Kim said that the joint venture will help "quickly and more effectively distribute [S.M.'s] contents" and that this will create a "positive synergistic effect."
2012: ENT, S.M.ART EXHIBITION and new contracts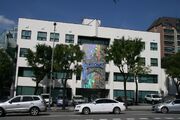 , Gangnam-gu, Seoul in 2012]]
In February 2012, SM launched new business initiative that specializes in travel and tourism. It acquired Hawaiian travel firm 'Happy Hawaii' and renamed it SM Town Travel. It is helmed by CEO Kang Jung Hyun and "aims to create synergies" between SM's entertainment product and travel. One of its first products is to offer special concert packages for overseas fans to attend Super Junior's Super Show 4 Tour encore concerts in Seoul in May 2012.
On 26 March 2012, 47 of their artists, including Kangta, BoA, TVXQ, CSJH The Grace, Super Junior, Zhang Li Yin, Girls' Generation, SHINee, f(x), Go Ara, Isak and Lee Yeon Hee, became stockholders of S.M. Entertainment. Becoming stockholder enabled them to participate in the company's vision and growth. Kangta, BoA, and most of the Super Junior, and Girls' Generation members will be receiving 680 shares each (value of around $27,200 for each member), while SHINee and f(x) members will be receiving 340 shares each (value of around $13,600 for each member).
Yoon In Wan, the creator of the popular comic, 'The Blade of the Phantom Master', teamed up with S.M. Entertainment for a new webtoon series titled 'ENT.' The webtoon released an illustration featuring Girls' Generation in cartoon form. Following up, the illustrations of the members of SHINee have been unveiled.
From 10 to 19 August S.M. Entertainment held an IT exhibition, the S.M.ART EXHIBITION at the COEX Convention & Exhibition Center. S.M.'s premium contents showcased in state-of-the-art digital technology.
S.M. signed contracts with VISA & KB Card. They will start printing S.M. artist Check cards (debit cards) in October.
S.M. Entertainment has been cleared of the accusations regarding colluding with music distributors. On 16 August, the Seoul High Court revealed their verdict on the issue: "The FTC (Fair Trade Commission) has canceled all corrective orders against SM Entertainment, and the lawsuit costs will be paid by the defendant." As a result, suspicions about SM Entertainment bargaining with music distributors have been found to be false.
On 17 August, MC Kang Ho-dong and Shin Dong Yup announced that they have signed exclusive contracts with SM C&C in collaboration with SM Entertainment. With the signing of the two MC's, this is seen as a move by SM to expand into television production outside of the management of singers and actors. On September 19, SM C&C merged with AM Entertainment as part of its strategy to extend into drama and video contents production. AM Entertainment, who represent actors, such as Jang Dong-gun, Kim Ha-neul, Han Ji-min. However Hyun Bin and Shin Min-ah were not included in the merge because both of their respective contract with AM had expired. They have yet to decide while the former is serving mandatory military service and the latter is still filming MBC drama Arang and the Magistrate. On the same day it was announced that they have also signed exclusive contracts with comedians Lee Su-geun and Kim Byung-man of Laws of the Jungle and 1 Night 2 Days fame.
According to Soompi.com, "SM Entertainment has set ambitious goals for 2013. The company has recently partnered up with two different media companies to expand further into the entertainment industry through print and broadcast.
The first partnership is with a contents specialized company Design House Inc. Design House Inc. is the company behind magazines such as "Happy Homes", "Monthly Design", "Men's Health", and "Luxury." The two will join together to develop a new content business called "The Celebrity." "The Celebrity" will target markets in Asia and around the world through mobile contents, on and offline magazines, and other publications. They have already set plans to publish a new futuristic Asian lifestyle magazine.
SM Entertainment's broadcast sector, SM C&C (Culture and Contents), has acquired another company, Hoon Media. Hoon Media is led by Lee Hoon-hee and is the production company behind popular KBS shows such as 1 vs 100, Heroines 6, Qualifications of Men, and Music Bank. Hoon Media has also produced other entertainment programs on other cable channels.
2013: Woollim Label and S Cube with Samsung Group
In August 2013, S.M. Entertainment's subsidiary S.M. Culture & Contents (S.M. C&C) and Woollim Entertainment merged. The result is "Woollim Label", which was formed as an independent label within S.M. C&C. The merger is part of S.M. Entertainment's plan to be a major music company.
S.M. stated, "S.M. Entertainment will run Woollim Label's global music distribution and additional businesses while S.M. C&C will take charge of the label's functions. In terms of business structure and scale, we will acquire international competitiveness and will stand as Asia's premier music group which can compete with global major music groups. We will take our place as the first global major music group in Korea."
In September 10, 2013, SME and Samsung publicly signed their agreement through a public ceremony at Samsung's branch office in Seochodong, Seoul on the 10th. Lee Soo Man, Samsung Community Relations director Seo Jun Hee, TVXQ's Yunho, f(x)'s Sulli were also present for the event. The venture will be known as 'S Cube' which starts with the letter 'S', representing SM Entertainment, Samsung, and society, and expects a synergy effect from SME's cultural contents and Samsung's already established social service platform.
As part of the campaign, SME's artists, composers, and producers will take part in an educational program which teaches music and dance to impoverished children around the world. The program will also provide services for multi-cultural families and much more. Samsung will help in creating new job opportunities for multicultural families and also help them in visiting their home countries. SM Entertainment will also help in hiring them as interpreters and inviting their family members to concerts so they can enjoy it with their loved ones. Samsung's Seo Jun Hee also stated, "SME is the top company in various areas of cultural content. From the combination of Samsung's know-how and SME's content, we think that a new synergy effect will be created."
2014: Partnership with Baljunso
On February 2014, S.M. Entertainment acquired shares in the independent record label Baljunso.
Baljunso was founded in 1991 by Kang Byung-young, former director of CAN Entertainment. Its artists include Kikaflo, Ezen, Shinchon Tigers, HLin, Wasted Johnny's, and Play the Siren.
Due to concerns regarding Baljunso partnering with S.M. (which is a major label), Kang Byung-young said in an interview dated February 26, 2014, "We will maintain the color of the indie scene and through the support, we will create an environment in which the indie musicians will be able to promote more actively.
We are aware of the concerns that some people may have... We will focus more on concerts rather than broadcasts. The color of the indie scene will not fade.
It is true that a substantial number of indie musicians are pursuing music under poor conditions... We will create a system which will make it easier for them to produce and promote their albums. We will create an environment in which the indie musicians will be able to focus on their music according to their effort."
Controversies
Contractual dispute with JYJ
In late July 2009, three of the TVXQ members; Kim Jaejoong (known as Hero), Park Yoochun (known as Micky) and Kim Junsu (known as Xiah), submitted an application to the Seoul Central District Court to determine the validity of their contract with SM Entertainment. Through their lawyers, the members stated that the 13-year contract was excessively long and that the group's earnings were not fairly distributed to the members. Early termination penalty of their contract will cost them 2 times the profit that the group is estimated to earn for the rest of the contract period (over ₩11 billion, or around US$9.2 million).
The Seoul Central District Court ruled in favour of the three members. They have claimed that the contract was unfair and the members were left out of proper profit distribution. In response, SM Entertainment called a press conference and claimed that the lawsuit was a fraud, stating that the lawsuit was not about unfair contracts or human rights but a scam motivated by the three members' greed over their cosmetics business. The three members remained silent except to say through their lawyers that they hoped SM Entertainment would respect the court's decision.
In response to the lawsuit, 120,000 members of TVXQ's fan club, Cassiopeia, filed a petition against SM Entertainment's long-term contracts with the Seoul District Court. Cassiopeia also filed for compensation from SM Entertainment for the canceled SM Town Live Concert, as both SM and TVXQ initially stated that the concert would go on as planned; the concert was canceled a week before its scheduled date. It was later announced in early May 2010 that the three members of TVXQ (Jaejoong, Yoochun and Junsu) will return to the stage as a sub-group. Their group is called JYJ representing the first letter of each of their names.
On February 17, 2011, the Seoul Central District Court dismissed SM Entertainment's injunction against JYJ, filed in April 2010 for damage compensation. In September 2012, the final decision on the case was postponed indefinitely, by Seoul Central District Court for mediation under the justice department.
On 28 November 2012, during a voluntary arbitration at the Seoul Central District Court, SM Entertainment and JYJ have reached a mutual agreement to terminate all contracts between the two parties and not to interfere with each other's activities in the future. Thus concluding the three years and four months exclusive contract lawsuit. A SM official is quoted as saying, "We made a judgment that we don't have to manage the three members of JYJ any longer as they expressed their intention not to keep their activity as TVXQ" and further added that they have decided to end the litigation "to avoid bringing additional harm to U-Know Yunho and Max Changmin, who are active as TVXQ, and to avoid making any more unneeded issues".
Contractual dispute with Han Geng
On December 21, 2009, five months after the three TVXQ members filed, Han Geng of Super Junior followed suit. The following day, December 22, 2009, Han Geng's lawyer released the reasons for the contract termination: it contained provisions in SM Entertainment's favor, the 13-year contract length was unlawful, it would take an unfair sum of money to end the contract, he was not allowed to request to revise his contract, he was forced to do things that were not in his contract, he was forced to do things against his will, he was fined if he disobeyed the company, missed any events or was late, and there was unfair profit distribution. Along with this, it was disclosed that because of SM Entertainment's refusal to give him a day off in over two years, he had developed gastritis and kidney disease.
Han Geng's best friend and now current manager, Sun Le, also submitted a statement to the Korean courts citing SM Entertainment's violation of Han Geng's rights. This statement was later leaked to the public via the Internet. Though many suspected the statement to be fan-created, it was later confirmed as true. Sun Le's statement contended that: Han Geng was forced to wear a mask due to SM Entertainment's ill handling of the visa issue, SM Entertainment purposely discriminated against Han Geng and his family, including financially, SM Entertainment refused to cooperate or listen to any of Han Geng's suggestions, SM Entertainment purposely turned down individual activities for Han Geng (including Ariel Lin's "Firefly" music video, which later starred two other Super Junior members) and SM Entertainment treated Han Geng's potential endorsers poorly.
On September 27, 2011, Han Geng's departure from Super Junior was made official when legal representatives of both Han Geng and S.M. Entertainment eventually released a statement stating, "Han Geng and S.M. Entertainment have amicably settled on a mutual agreement, and the lawsuit was able to come to a close after Han Geng submitted his 'Notice of Withdrawal of Appeal'."
Fair Trade Commission Revisions
SM Entertainment has released an official statement regarding the contract revisions demanded by the Fair Trade Commission. SME officials clarified on the 23rd, "The FTC only ordered us to revise the contract of one of our trainees by removing the three years added onto his contract. We complied, thus making every contract under our agency to date as 'fair.' BoA, TVXQ, The Grace, Super Junior, Girls' Generation, SHINee, The Trax, and other celebrities under our agency have already been acknowledged as fair contracts by the FTC."
They continued, "As leaders of the industry, we have been cooperating closely with the National Assembly and other related bureaucracies in order to protect the rights and interests of our celebrities, and to aid in the advancement of Korea's entertainment industry and the Hallyu wave." After numerous discussions with the FTC, SME drafted a new contract earlier this year with the changed terms mentioned in the previous article. All artists re-contracted with the agency under the new terms, which were acknowledged by the FTC to be fair. The representative continued, "We fully complied with the recent request by the FTC regarding our contract with a trainee. With the help of the FTC, we will be developing better contracts for the progression of Korean culture and contract customs."
2009–2010 MNet Asian Music Awards boycott
SM Entertainment along with Inwoo Production boycotted the 2009 Mnet Asian Music Awards event on 21 November, hence none of their artists attended the event. SM stated that they have reservation regarding the standard of fairness and criteria used in their selections,[1] citing that Girls' Generation had topped a music chart for nine consecutive weeks but was never placed first place on their show and only debuted on their charts a month after the album was released. They also asked that their artists be removed from a mobile poll which requires participants to pay a fee in order to vote saying they "do not want to see fans suffer any damage from the poll which has commercial intentions".[2]
2011: S.M.'s role in the price rigging scheme
S.M. was one of the 15 companies fined and sued by the Korean FTC for price rigging in 2011.[3]
Contractual dispute with Kris Wu
In May 15, 2014, almost five years after Hangeng filed his case against SM Entertainment, Kris of EXO filed a lawsuit to terminate his exclusive contract with SM Entertainment.[4] It was first reported on Chinese news portal Sina,[5] with various reactions from fans. Korean news sites TV Daily,[6] Korea Herald,[7] eNews,[5][8] Nate,[9] TV Report,[10] and Daum[11][12] followed suit. The side supporting Kris has stated that the idol is not being respected as an artist in SM Entertainment and is rather being treated as an object, with no say in the deciding of schedules. According to Kris's side, SM never gave thought to his health or his opinions. The lawyer Cho Bum Suk of the law firm Hanbyul, the same lawyer who handled Hangeng's case nearly five years ago, will be representing Kris.[13]
There is also a chance that Kris is suing for medical reasons. According to Chinese media outlet Sina, Kris is reported to have visited a hospital in Guangzhou, China when he returned from the '12th Korean Musical Festival' in Los Angeles, California on May 2. The alleged report states that according to a medical professional, Kris has higher than average creatine kinase and isozyme levels, and is suspected of having myocarditis, although as of now he is required to go back for another examination as it is unknown whether he has a heart problem or not. A former SM Entertainment trainee, Song Byung Yang, also posted on Weibo, "As an old friend of [Kris], it wasn't easy seeing him struggle due to the severe mental stress and fatigue. Because his body couldn't handle it, he even developed heart problems."[14]
Roster
SM Town
SM Town, which started in 1999, is the project name for SM Entertainment's summer and winter vacation albums. SMTown albums consist of current SM Entertainment artists. Each SMTown album consists of one SMTown song and a song from each artist or group.[15]
Recording artists
Debut
Artist
Gender
Members
Leader
Status
Fanclub
Official Color
1996

Kangta

1
Male
—
—
Active
Club K.I.T.
White
2000

BoA

Female
—
—
Active
Jumping BoA(K), SOUL(J)
Lemon Yellow
2002

Chu Ga Yeol

Male
—
—
Inactive
—
—
2003

TVXQ

Male

U-Know Yunho

,

Max Changmin

U-Know Yunho

Active
Cassiopeia(K), BigEast(J)
Pearl Red
2004

TRAX

Male

Jay

,

Jungmo

Jay

Inactive
TRAXIAN
Dark Blue
2005

The Grace

Female

Lina

,

Dana

2,

Sunday

,

Stephanie

Non-leader group
Inactive
Shapley
Pearl Pink
2005

Super Junior

3
Male

Leeteuk

,

Heechul

,

Yesung

,

Kangin

,

Shindong

,

Sungmin

,

Eunhyuk

,

Donghae

,

Siwon

,

Ryeowook

,

Kibum

4,

Kyuhyun


(

Zhou Mi

,

Henry

(

M

))

Leeteuk

Active
E.L.F
Pearl Sapphire Blue
2006

Zhang Liyin

Female
—
—
Active
Chocolate
Metal Pearl Light Gold
2007

Iconiq

Female
—
—
Inactive
—
—
2007
J-Min
Female
—
—
Active
—
—
2007
Girls' Generation
Female

Taeyeon

, Jessica, Sunny, Tiffany, Hyoyeon, Yuri, Sooyoung, Yoona, Seohyun

Taeyeon

(Inactive: Jessica

Active
S♡NE
Pastel Rose Pink
2008
SHINee
Male
Onew, Jonghyun, Key, Minho, Taemin
Onew
Active
Shawol (SHINee World)
Pearlescent Aquamarine
2009
f(x)
Female
Victoria, Amber, Luna, Sulli, Krystal
Victoria
Active
MeU
Pearl Light Periwinkle
2012
EXO
Male
Suho, Baekhyun, Chanyeol, D.O., Kai, Sehun (K)

Suho(K)
Active
EXO-L
Silver
2013

Henry

5
Male
—
—
Active
Strings
—
2014
Red Velvet
Female
Irene, Seulgi, Wendy, Joy, Yeri
Irene
Active
ReVeluv
Pastel Coral
2014
Taemin
Male
—
—
Active
Shawol (SHINee World)
Pearlescent Aquamarine
2014

Zhoumi

Male
—
—
Active
—
—
2014

Kyuhyun

Male
—
—
Active
E.L.F
Pearl Sapphire Blue
2015
Jonghyun
Male
—
—
Active
Shawol (SHINee World)
Pearlescent Aquamarine
2015
Amber
Female
—
—
Active
—
Pearl Light Periwinkle
2016
NCT
Male
-
Taeyong
Active
NCTzen
Pearl Neo Champange
2019
WayV
Male
Kun, Ten, Winwin, Lucas, Xiaojun, Hendery, Yangyang
Kun
Active
WayZenNi
-
2019

SuperM

Male
Baekhyun, Taemin, Kai, Taeyong, Ten, Lucas, Mark
Baekhyun
Active
-
-
2020
Aespa
Female
Karina, Giselle, Winter, Ningning
Karina
Active
MY
Wisteria
Malibu
1Kangta originally debuted as a member of H.O.T. in 1996. After the group disbanded in 2001, he became a solo artist.
2Dana originally debuted as a solo artist in 2001 but later became a member of The Grace in 2005.
3Zhou Mi and Henry are active members only of Super Junior's sub-unit Super Junior-M, promoting mainly in Chinese-speaking countries.
4 Although having been inactive in the group since 2009 due to a pursuit in acting, Kim Kibum is still a member of the group. Han Geng left in 2009 after filing for contract termination.
5Henry originally debuted as a member of Super Junior-M in 2008.
Template:Col-break
Studio artists
Composers
Lee Soo-man

(

executive

)

Yoo Young-jin

Kenzie

Song Kwang-sik

Kangta

Park Su Hyun (Evans Hyun)
Template:Col-break
Korean lyricists
Yoo Young-jin

Kenzie

Misfit

Seo Ji-eum
Kim Bu-min
Chinese lyricists
Li Yuan
Wang Yajun
Zhou Wejei
Pianist
Template:Col-break
Template:Col-break
Project units
S

K&V

The BLUE

S.M. The Ballad

M&D

S.M. The Performance

TOHEART

SM Rookies
Template:Col-break
Sub-units
Template:Col-break
SM C&C
Template:Col-break
Entertainers
Hong Rocky
Jang Dong-hyuk

Jun Hyun-moo

Kang Ho-dong

Kim Byung-man

Kim Kyung-sik
Lee Dong-woo

Lee Soo-geun

Ryu Dam

Shin Dong-yup
Template:Col-break
Actors & actresses
Baek Hyun

Gong Hyung-jin

Han Chae-young

Jang Dong-gun

Jo Min-seong

Jung So-min

Kang Ye-won

Kim Ha-neul

Kim Shi-hoo

Kim Su-ro

Lee Chae-won

Moon Ga-young

Song Jae-rim

Yoon So-hee
Template:Col-break
Model
Woollim Label
Main article:

Woollim Entertainment#Artists
Former artists
SM Town
Debut
Artist
Gender
Members
Leader
Leave
1990

Hyun Jin-young

Male
—
—
1993
1991

Han Dong-joon

Male
—
—
1992
1991

Kim Kwang-jin

Male
—
—
1992
1994

MAJOR (duo)

Male

Seo-Yeonsoo

,

Lim-bumjun

—
1994
1994

J&J (duo)

Male

Jay Kim

,

Jay Kang

—
1994
1996

H.O.T.

1
Male

Moon Hee-jun

,

Jang Woo-hyuk

,

Tony An

,

Lee Jae-won

,

Kangta

Moon Hee-jun

2001
1997

S.E.S.

Female

Bada

,

Eugene

,

Shoo

Bada

2002
1998

Shinhwa

Male

Eric Mun

,

Lee Min-woo

,

Kim Dong-wan

,

Shin Hye-sung

,

Jun Jin

,

Andy Lee

Eric Mun

2003
1999

Fly to the Sky

Male

Hwanhee

,

Brian Joo

—
2004
2001

Jang Na-ra

Female
—
—
2008
2001

M.I.L.K

Female
Park Hee-bon,

Seo Hyun-jin

, Kim Bo-mi, Bae Yu-mi
Park Hee-bon
2004
2002

Blackbeat

Male
Lee So-min, Hwang Sang-hoon, Jung Ji-hoon, Shim Jae-won, Jang Jin-young
Lee So-min
2007
2002

Shinvi

Female
Yoo Soo-jin, Oh Sang-eun, Yoo-na
Yoo Soo-jin
2003
2002

Isak 'N' Jiyeon

2
Female

Lina

(now member of

The Grace

),

Kim Isak

—
2004
2003

TVXQ

/

JYJ

3
Male

Kim Jae-joong

,

Kim Jun-su

,

Park Yoo-chun

—
2009
2004

Kang Jung-woo

4
Male
—
—
2006
2004

No Min-woo

4
Male
—
—
2009
2005

Han Geng

5
Male
—
—
2009
1After H.O.T. disbanbded in 2001, Jang Woo Hyuk, Tony An and Lee Jae Won left S.M. Entertainment while Kangta and Moon Hee-joon were offered lucrative contracts as solo artists. Moon Hee-joon later left the company in 2005 while Kangta remained.
2After Isak N Jiyeon disbanded in 2004, Jiyeon took the stage name of Lina and became a member of The Grace in 2005. Isak became VJ and radio DJ for Arirang, but left the company in 2012.
3Kim Jae-joong, Kim Jun-su, and Park Yoo-chun debuted in 2003 as members of TVXQ. They left in 2009 after the three filed for an injunction against SM Entertainment and formed JYJ in 2010.
4No Min-woo and Kang Jung Woo debuted as members of TRAX in 2004.
5Han Geng debuted in 2005 as members of Super Junior. He left in 2009 after filing for contract termination.
Template:Col-break
MC
Notable former trainees
Lee Jun-ki

(now an actor under Namoo Actors)

Youngsaeng

(now under B2M Entertainment as a member of

SS501

)

Jungmin

(member of

SS501

)

Gyuri

(now under

DSP Media

as the leader of

Kara

)

G.O

(now under

J. Tune Camp

as a member of

MBLAQ

)

Sol Bi

(now under Histar Entertainment)

G-Dragon

(now under

YG Entertainment

as the leader of

Big Bang

)[16]

Lee Jong-suk

(now an actor under Wellmade STARM)

Zico

(now under Seven Seasons as the leader of

Block B

)

Soyeon

(now under

Core Contents Media

as a member of

T-ara

)
Chanmi (Former member of

Coed School

&

F-ve Dolls

)
Hyunyoung (now under

DSP Media

as a member of

Rainbow

)

Woori

(now under

DSP Media

as a member of

Rainbow

)

Raina

(now under

Pledis Entertainment

as a member of

After School

and leader of

Orange Caramel

)

Gayoon

(now under

Cube Entertainment

as a member of

4Minute

)

Bora

(now under

Starship Entertainment

as a member of

SISTAR

)

Eunji

(now under

Star Empire Entertainment

as a former member of

Nine Muses

)

Kahi

(now under

Pledis Entertainment

as graduate leader of

After School

. Now as solo singer)
Shim Hyun Kyung (now under

EE-Media

as a member of

iMe

in China)
Woollim Label
Main article:

Woollim Entertainment#Former
Discography
Main article:

SM Entertainment discography
Filmography
Attack on the Pin-Up Boys

(2007)
Heading to the Ground (2009)

Paradise Ranch

(2011)

I AM.

(2012)

To The Beautiful You

(2012)

Prime Minister and I

(2013)

Miss Korea

(2013–2014)
Partnership
As of June 2014:
Fandango Korea

Avex Entertainment

EMI Records (formerly Nayutawave Records)

(Girls' Generation, J-Min, Shinee)

J Storm

TrueVisions Group

Kraze Burger (Japan only)

YinYueTai

Kakao Inc.

[17]
9tunEs Entertainment
Distributing labels
S.M. Entertainment

South Korea

Self-distributed (1995–1998, 2008–2011)
Synnara Records (1998-2003)
IKPop Co., Ltd. (2003–2008)

KMP Holdings

(2011–2013)

KT Music

(2013–present)

Japan

Avex Group

[BoA, Tohoshinki, Super Junior, f(x), EXO, Red Velvet] (2000–present)

VAP

(1998–2000) (S.E.S)

Universal Music

(Girls' Generation, J-Min, SHINee) (2010–present)

EMI Music Japan

(SHINee) (2011–2013) (merged into

Universal Music

)

Taiwan

Avex Taiwan

Universal Music

(Girls' Generation) (2010–present)

Malaysia/Singapore

Universal Music

Warner Music

(Japanese releases of SHINee) (2010–2013) (as licensee of

EMI Music Malaysia

)

Indonesia

Indo Semar Sakti

Universal Music

(Girls' Generation, Japanese releases of SHINee)

Warner Music

(SHINee) (2012–2013) (as licensee of

EMI Music

; Japanese releases only)

Philippines

Universal Records

(as licensee of

Avex Group

)

MCA Music

(Girls' Generation, Japanese releases of SHINee) (2010–present)

PolyEast Records

(Japanese releases of SHINee) (2010–2013)

Thailand

GMM International

(as licensee of

Avex Group

) (until 2011)

SM True

(2011–present)

China and Hong Kong

Sky Music

Avex Hong Kong

Media Asia Music

(Super Junior) (2012–present)[18]

Universal Music

(Girls' Generation, Japanese releases of SHINee) (2010–present)

Warner Music

(Japanese releases of SHINee) (2010–2013) (as licensee of

EMI Pathe

)
Woollim Label
South Korea

CJ E&M Music and Live

(2006–2008)
self-distributed (2008–2011)

LOEN Entertainment

(2011–present)

KT Music

(2013–present)

Japan

Home Game Records

(Nell) (2013–present)

Universal Music

(Infinite) (2011–present)
Baljunso Label
South Korea
Subsidiaries
SM TinTin Hall (2000)
SM Entertainment Japan (2001)
SM Academy (2003)
SM Art Company (2005)
SM Pictures (2007)
SM Amusement
SM F&B Development
SM Entertainment USA (2008)
SM Town Travel (2012)
SM Culture & Contents (2012)
9Tunes Entertainment (2014)
References
External links